Coffret découverte Oh Oui !
Regular price

45,00 €

Sale price

40,00 €

Unit price

per
Delivery

Deux choix s'offrent à vous, retrait ou livraison à Paris et proche banlieue :
- Livraison gratuite dès 60 Euros d'achat,
- Retrait en boutique gratuit au 95, rue du Bac dans le 7ème arrondissement à Paris du mardi au samedi de 11h à 19h.
Description

Vous découvrez Oh Oui ! ou voulez faire découvrir les pâtisseries IG bas à l'un de vos proches diabétiques ou qui fait attention à sa consommation de sucre ?

Le coffret découverte vous donnera la possibilité de tester toute notre gamme. Et en bonus, nous vous offrons une petite surprise gourmande à chaque commande !

Ne vous privez plus de dessert !
Product information

Dans ce coffret découverte IG bas, découvrez nos 8 pâtisseries best-sellers réduites en sucres, riches en fibres et à indice glycémique bas (<25) :

- Une allumette chocolait
- Une allumette truffée
- Une allumette fruits rouges
- Une allumette pistache mandarine
- Un finger citron
- Un finger chocolat noisette
- Un éclair Paris-Brest
- Un brownie

Nous vous ajouterons un petit cadeau bonus à chaque commande !

Une fois décongelées, nous vous conseillons de déguster les pâtisseries dans les 24h pour une expérience optimale. Produit congelé, ne pas recongeler après décongélation.
Share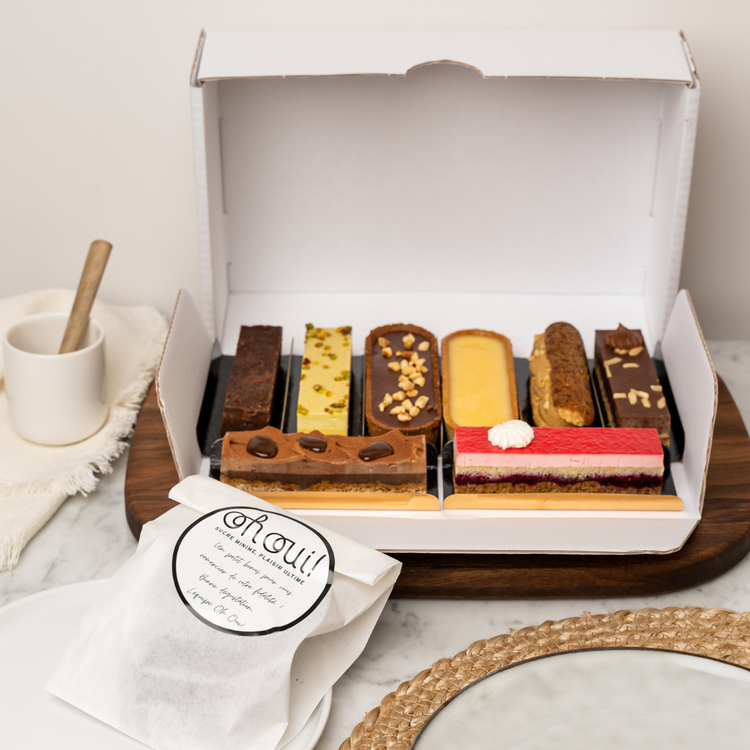 They talk about us
"Maximum pleasure without a gram of refined sugar or sweeteners".

"The sexy healthy dessert"

"We love this address for its delicacy, obviously, but especially for the smiles it is able to give"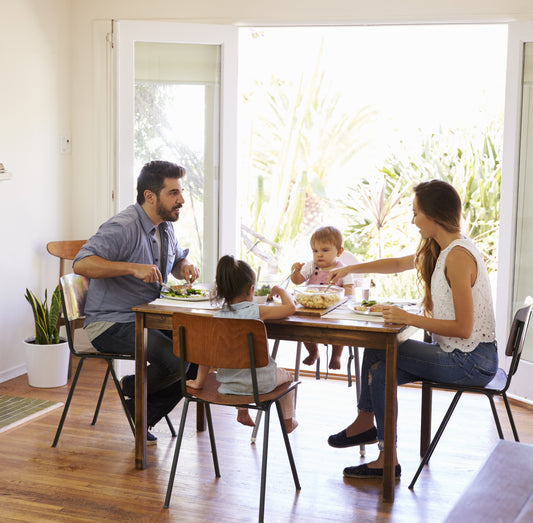 Treat the whole family this weekend, and surprise them with our recipes without refined white sugar!
On weekends, we love to get together with our families for a good meal.
It's an opportunity to share a moment of relaxation and pleasure with the people we love. And there's nothing like a box of Oh Oui ! pastries placed on the table at the end of the meal.
There's something for everyone, and diabetics are no longer deprived of dessert: our delicious pastries are low in sugar so that everyone can enjoy their meal while keeping their figure and controlling their blood sugar levels.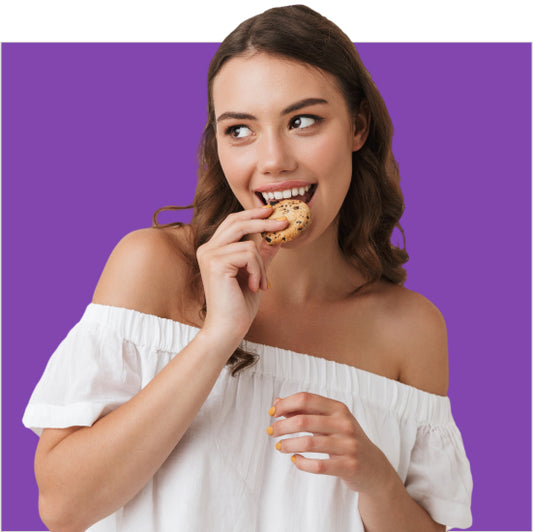 Rediscover the taste of good things without feeling guilty, less sugar, more taste!
When you are diabetic, no food is forbidden, but you must know how to control the consumption of certain products and pastries are one of them.
The pastries have been designed for people with a controlled diet: women with gestational diabetes and people with type 1 and 2 diabetes. They have been tested "in-vivo" in the laboratory and are guaranteed low GI.
All this while fulfilling their main mission: to please you!